The largest and most powerful port towing fleet in Brazil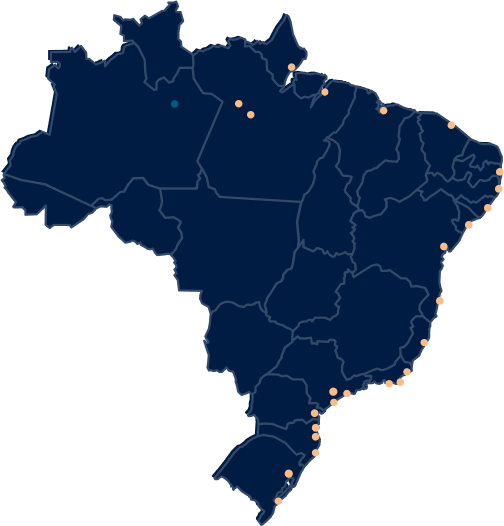 Two strategically located container terminals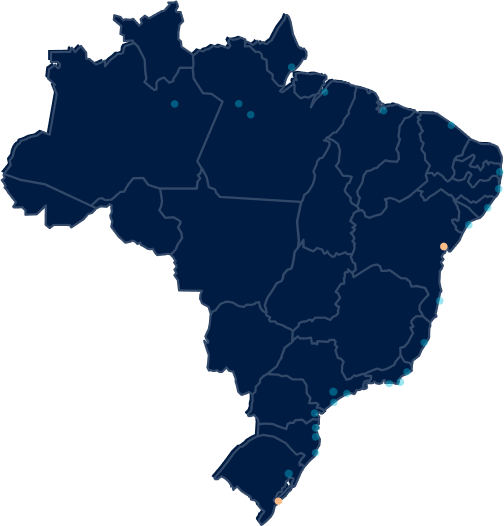 Offshore support fleet with 23 vessels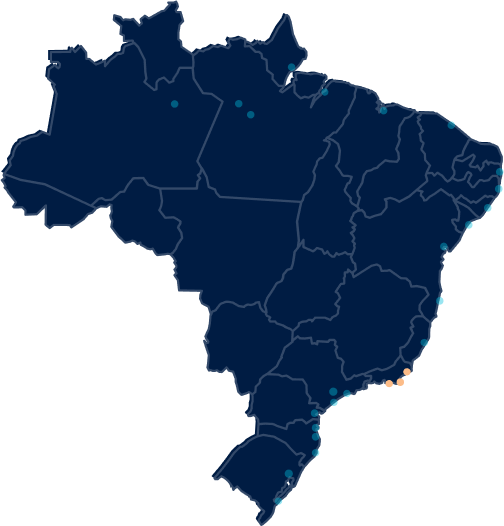 Two offshore support bases close to the pre-salt reserves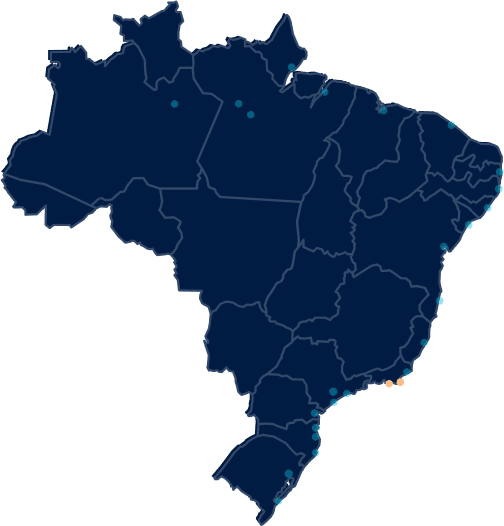 One bonded Logistics Centre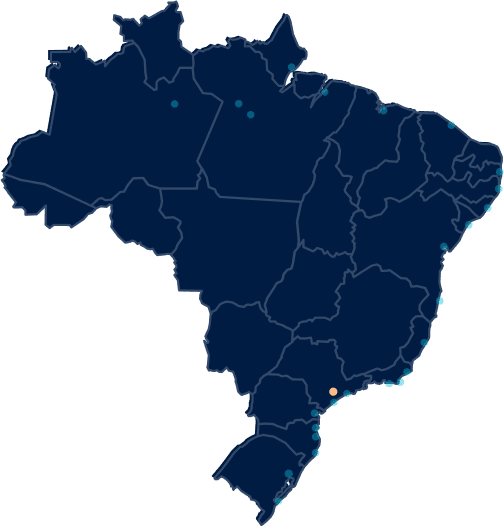 Shipyards strategically located on the left bank of the Port of Santos (SP)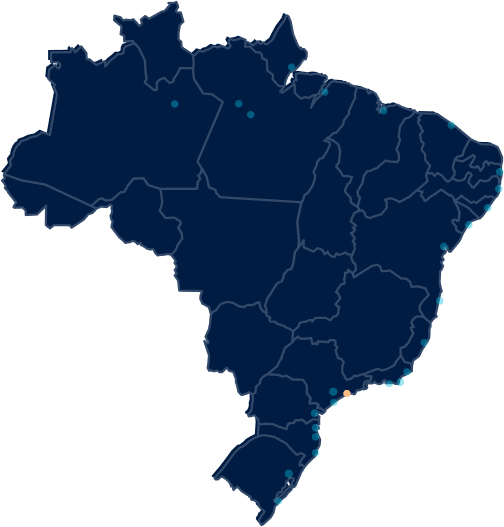 One of the largest independent shipping agencies in the country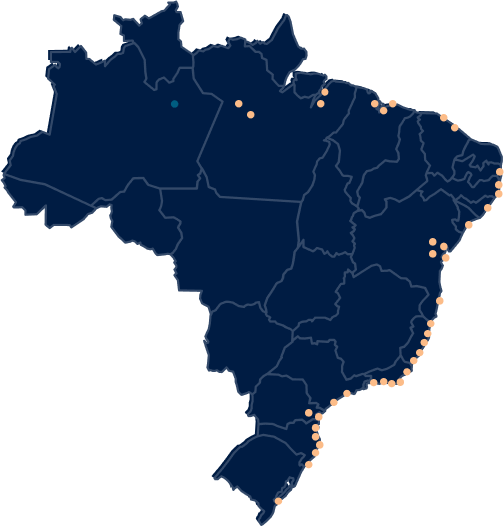 Experience of our customers
"Our partnership with Tecon Rio Grande / Wilson Sons, the first TECON in Brazil, started from the first day in the 80's and, since then, has only grown like our cabotage. Our cabotage is what it is today in Rio Grande do Sul due to this great partnership which we are very grateful for existing and which allows us to continue growing and developing cabotage in the waters of our dear Rio Grande. It's simply a symbiosis."
Fernando Melo
Aliança Navegação e Logística
Among the customers served by Wilson Sons tugs in the segment is Celse (Centrais Elétricas de Sergipe), which operates the Porto de Sergipe Thermoelectric Power Plant (TPP). With 1.5 GW of installed capacity, the Sergipe TPP is supplied by a regasification terminal, capable of storing up to 170 thousand cubic meters of LNG and regasifying up to 21 million cubic meters of gas per day. To give you an idea, the Bolivia-Brazil gas pipeline, one of the most important in the country, can transport 30 million cubic meters per day.
Wilson Sons tugboats operate in ship to ship operations (cargo transfer from ship to ship) to supply the terminal. "These are highly complex operations and require a high level of security, with adequate planning and training. Having a partner with Wilson Sons' experience is a plus", highlights Lucas Buranelli, LNG terminal operations manager at Celse.
Another opportunity is the projects involving cabotage and the commercialization of LNG on a small scale (also called "small scale LNG"). The objective is to meet the demand for gas in the interior of the country, where there are no gas pipelines to carry the fuel. "Currently, gas reaches a very restricted territory, but with new measures for the sector and greater investment in infrastructure for its flow, it will be possible to transport LNG in larger volumes at competitive prices. It is an alternative to firewood, coal and also gasoline, diesel and heavy oil", highlights Buranelli.
Lucas Buranelli
Celse - Usina Termoelétrica Porto de Sergipe
Gerente de Operações
"As a strategic partner of Tramontina, TECON - Container Terminal of Rio Grande is the main logistics operator for the import of machinery and equipment that support our production, as well as continuous support for the export of our products. As an industry, we understand the importance of service providers such as TECON, which leverage channels for business growth, in addition to generating jobs and income to leverage investments in the Port, which benefit the entire production chain."
Tramontina
"Working with Tecon Santa Clara helped our company to be able to optimize its logistics, providing cost and time reduction in the processes. The availability of closer containers, in stock, was often helpful in boardings. Not to mention the fact that we are able to contribute to nature, at least a little, using a less polluting modal of transport, in a good part of the route of our cargoes."
Marina Bertolla
BRV Móveis
''Efficient company, always looking for alternatives to better serve customers. A complete solution in services, including primary zone storage when needed.
Efficient port with constant movements of ships without lingering delays due to problems of time or water level in the mooring berths."
Jacques Ivo Krause
Director of Product and Foreign Trade - Mondial Eletrodomésticos.
"Tecon Santa Clara, as an extension of Tecon Rio Grande's services, has been a strategic partner for Tramontina's business, both in exports and imports. As it is logistically close to Tramontina, we have a more predictable and personalized service, in addition to being a support point for the collection and delivery of containers, which is a competitive advantage.
Another factor that we evaluate positively is the result of the combination of the river modal + the road modal, which generates a lower volume of pollutants and also provides greater balance in the transport matrix."
Tramontina
"Wilson Sons has been a great and important business partner of the company Ocean Network Express Latin America in Brazil, since the beginning of its activities in our country, which occurred on 04/01/2018, however, long before it already maintained the provision of services for the Japanese Shipowner, Mitsui OSK Lines.
Undoubtedly, being able to count on a business partner like Wilson Sons, who already had the expertise for local services, such as a shipping agency, contributed more significantly to our success during the transition period, which usually always entails great challenges, and with us it was no different.
More than 03 years after the beginning of our operations in Brazil, we highlight the atmosphere of harmony and professionalism that exists in their service, in addition to the great cordiality of their teams, always ready to help us at any time.
Especially during this totally unusual period, coming from the COVID-19 pandemic, they were always attentive to our difficulties and needs, always taking great care of our customers.
Our most honest gratitude to the entire Wilson Sons team."
Wagner de Oliveira
Branch Manager - ONE Santos Focal window of contacts with Wilson Sons
"Tecon Rio Grande is an extension of Euro-America. We are grateful to have a reliable, efficient and fundamental partner for the success of our operations." 
Bruno Merlin
Officer of Euro-America. 
Technology for real-time access to information
We have portals that bring relevant information for cargo tracking, simplifying the routine with safety, simplicity and agility